415 IT Blog
415 IT has been serving the San Rafael area since 2005, providing IT Support such as technical helpdesk support, computer support, and consulting to small and medium-sized businesses
How to Implement an Effective BYOD Policy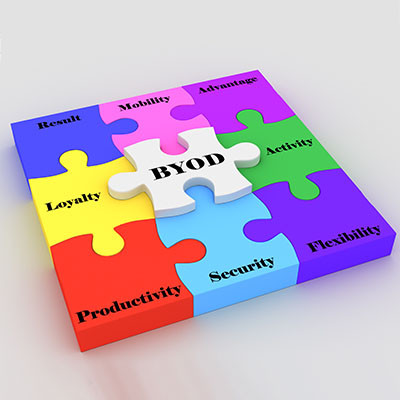 Let's face it; running a business can be expensive, and taking any measures possible to mitigate those costs can have huge benefits for your bottom line. One way companies are minimizing costs is by implementing a Bring Your Own Device policy, or BYOD, to allow employees to use their own personal devices for work purposes. We're here to help you do so without putting security at risk.
But first, what does a Bring Your Own Device policy entail, and why is it so popular and effective for businesses?
BYOD is More Than Just an Employee Convenience
BYOD, when implemented properly, can give your employees the ability to use their personal devices for work purposes, opening up a whole range of benefits for both the employer and the employee. For the employee, they get to use a device they are familiar with, allowing them to be more productive. For the employer, they save capital by not having to provide employees with technology.
These benefits, however, are only effective when the devices are properly managed and secured. Let's discuss some ways you can keep BYOD from becoming a liability for your company.
Issues Related to BYOD Strategy
Plan Ahead
Most business decisions cannot be made haphazardly, especially when it comes to technology implementation. You'll want to take your time and consider the various elements involved with any change to your technology strategy. For example, you will want to consider that your business is working with data, and that data should not be accessed by anyone without the proper permissions; especially on a device that you don't have much control over.
This is where classification comes in. Assign levels of classification to dictate who can access which data and on which devices. A good rule to follow is that you should work from the principle of least privilege. Provide the least amount of access possible for your staff to do their jobs, and nothing more until it becomes evident that they need further access. The fewer people who can access said data, the more secure it will be.
Be Prepared for Problems
The best way to prevent issues from escalating is to expect them to happen and be ready to address them. You might run into issues with your expectations for the policy differing from your team's, which could lead to friction between management and your workforce. As such, you need to be ready to respond to situations where your authority and their privacy might clash.
We recommend that you always be transparent with your team about security and make sure their privacy is a priority whenever possible. We'll cover this topic in greater detail in a moment, but for now, try to make security as easy as possible by providing them with easy-to-use tools like password managers and antivirus to reduce friction whenever possible.
Weigh Privacy and Security Appropriately
Ultimately, the trickiest part about BYOD is managing the balance between security and privacy in a way where your team feels respected and in control of their own technology, not the other way around. Your BYOD policy should maintain privacy without sacrificing security, something that a mobile device management tool can make much easier to manage. This will help to reduce friction whenever possible.
Let 415 IT Help
If you're ready to implement BYOD, we can help make the process easier. To learn more, call us at (415) 295-4898 today.
Comments
No comments made yet. Be the first to submit a comment